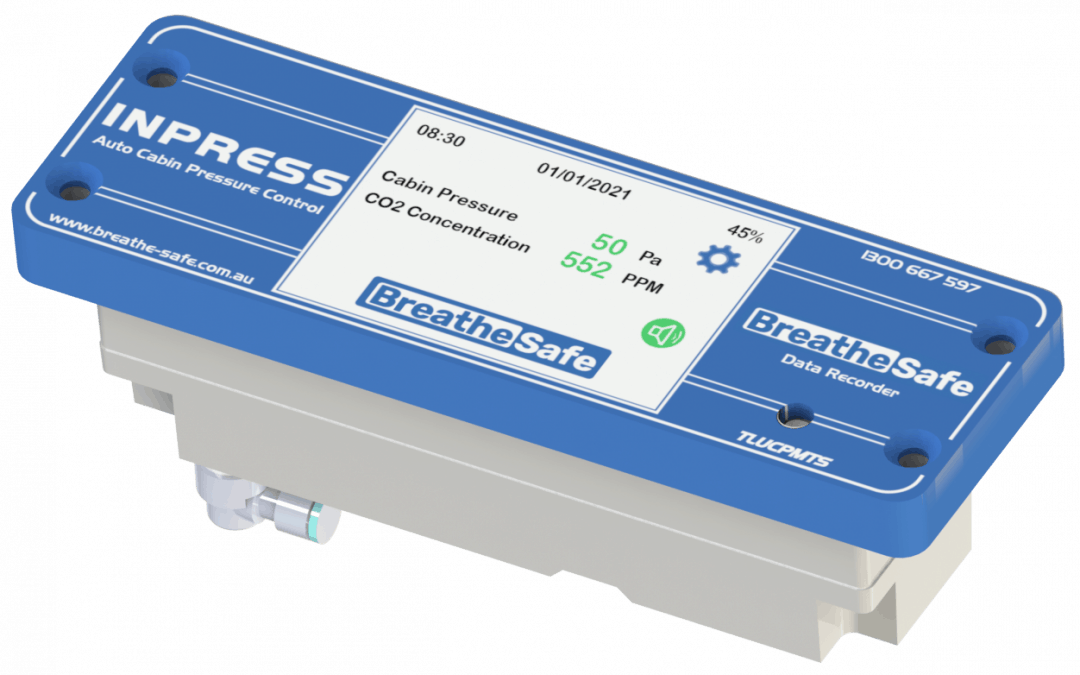 The new ISO 23875 standard places a greater emphasis on the air quality inside the operator cabin than has been previously addressed.
BreatheSafe has always focused on air quality
ISO 23875 for the Mining Industry
BreatheSafe systems meet and exceed this standard with our new INPRESS TS.
There are 5 performance requirements in ISO 23875
Higher filter efficiency requirements
Defined maximum CO2 level
Recirculation and fresh air system requirements
Established cab pressurisation levels
Real-time operator cab monitoring
Learn more about BreatheSafe Cabin Air Purification Solution

INPRESS Auto Pressure Control
The INPRESS TS is the latest touchscreen monitor controller of the BreatheSafe system. It provides automatic control over the air filtration system and utilises a simple interface for a user-friendly experience.
ISO23875 Performance Requirements
The BreatheSafe High Pressure HEPA Filtration system meets and exceeds ISO23875 requirements
Filter Efficiency Requirements
BreatheSafe uses HEPA H14 filters at 99.99% efficient of particles 0.3 microns in size. This is more efficient and safe than the standard of H13.
Maximum CO2 Levels
Using maximums outlined in the standard, the TS alerts the operator when CO2 levels reach and pass acceptable levels, and increases airflow to minimise CO2.
Recirculation and Fresh Air
BreatheSafe systems are integrated into the OEM aircon system. Both the fresh and recirculated air are filtered through HEPA filters for optimal protection.
Pressurisation Levels
The TS automatically controls pressure levels to remain at a pre-set pressure by adjusting blower speed of the pressurisation unit.
Real Time Monitoring
The TS is equipped with live charts, auto-recording of events, and auto data logging to ensure prolonged safety.
Automatic Pressure Monitor
The INPRESS TS (TLUCPMCO2) automatically controls the blower speeds to maintain preset cabin pressure. It does this by monitoring the pressure through its built-in pressure transducer.
Industry minimum standard is between 20 and 50 Pa from new. Our systems are preset to remain at 50 Pa but can be changed through system settings.
The TLUCPMCO2 measures the pressure inside and outside the clean air compartment and calculates the error based on the pressure setpoint. An algorithm applies these values, and the controller calculates a proportional output that adjusts the speed of the pressuriser motors.
Automatic Alarms
The BreatheSafe TLUCPMCO2 automatically sounds alarms at pressure drops, alerting the operator to the potential of hazardous air.
Optionally, the unit can distinguish if a door or window is not sealed correctly and alert the operator. At the same time as this alert is sounding, the blower power will increase to keep the operator as safe as possible.
CO2 Sensor option (ISO 23875)
With the option to add TLUCPMCO2 BreatheSafe CO2 sensors, operators will be alerted when unsafe air quality conditions are present by providing real-time CO2 data and audible/visual alerts.
Automatic Data Logging
The BreatheSafe INPRESS automatically records and stores recorded data, depending on sampling requirements this can be up to 12 months.
The TLUCPMCO2 controller is designed to start data logging as soon as it is powered up. Data samples time, date, motor capacity, and current pressure readings. This is additional to standard alarm logging, which occurs at every alarm instance.
Service Test Mode
Service test mode easily shows cabin sealing effectiveness and filter lifecycle capacity tests.
Something new is always on the horizon at BreatheSafe
We are dedicated to innovation in technology to
protect workers and machinery.
Our systems can be customised for any machine and any environment