BreatheSafe Products
Every brand. Every machine. Every operator.
Custom Design Solutions
BreatheSafe provides the total solution for your air quality requirements. 
We design high pressure cabin air filtration systems that provide machine operators optimal protection.  Our intelligent controller acts as a means of control and alerts the operator when caution may be called for.  Our products are proven to reduce maintenance costs through efficient design and are reliable and effective, even in Australia's harshest conditions
BreatheSafe INPRESS HEPA Air Filtration System
Fully Customisable High Pressure Air Filtration System
The most advanced system available today is the BreatheSafe INPRESS Air Filtration System – designed to stop exposure to dust including respirable and inhalable dust for the life of the machine.
Exceeding
EN15695

standards
INPRESS Auto Cabin Pressure Control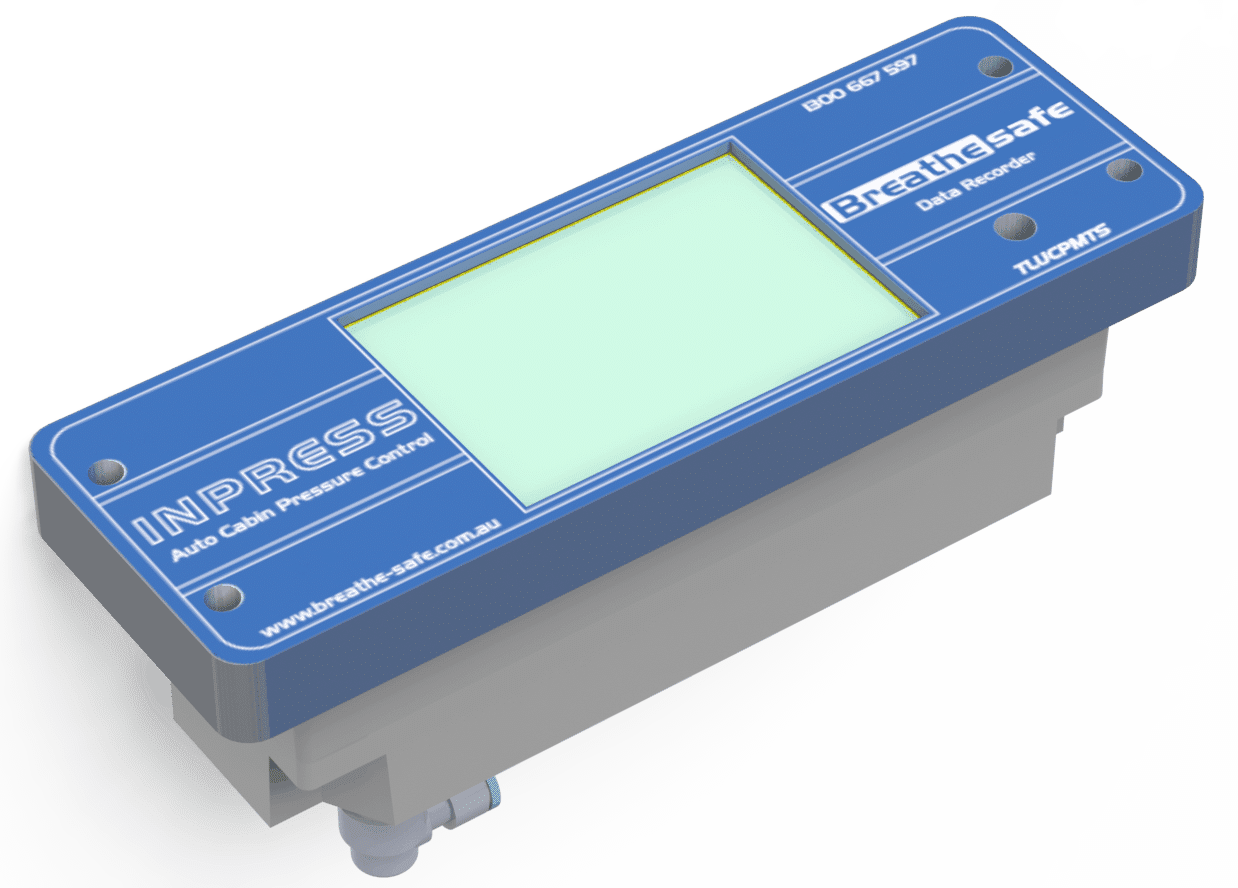 Automatic Pressure Monitor
The BreatheSafe INPRESS TL automatically controls the blower speeds to maintain a pre-set cabin pressure by monitoring the pressure through its built-in pressure transducer.
In essence, the BreatheSafe INPRESS TL unit monitors the cabin pressure as measured through its built-in pressure transducer and calculates the error based on the pressure setpoint. This value is applied to an algorithm and the controller calculates a proportional output which adjusts the speed of the pressuriser motors. The controller automatically adds an offset of 2.0 Pascals to the alarm set-point and uses that value as the pressure set-point for fan speed control. If the alarm set-point is 25.0 Pascal's, the unit will in fact try to maintain 27.0 Pascals during normal running.
Automatic Data Logging
The BreatheSafe INPRESS TL automatically records and stores up to 10 – 12 months worth of data, depending on sampling requirements
The controller is designed to start data logging as soon as it is powered up. Data samples are taken and recorded every 60 minutes with time, date and current pressure readings. This is additional to normal alarm logging which occurs at every alarm instance.
Automatic Alarms
The BreatheSafe INPRESS TL automatically sounds alarms at pressure drops, alerting the operator to the potential of hazardous air.
Optionally, the unit can distinguish if a door or window is not sealed correctly and alert the operator. At the same time as this alert is sounding, the blower power will increase to keep operator as safe as possible.
BreatheSafe TL Pressuriser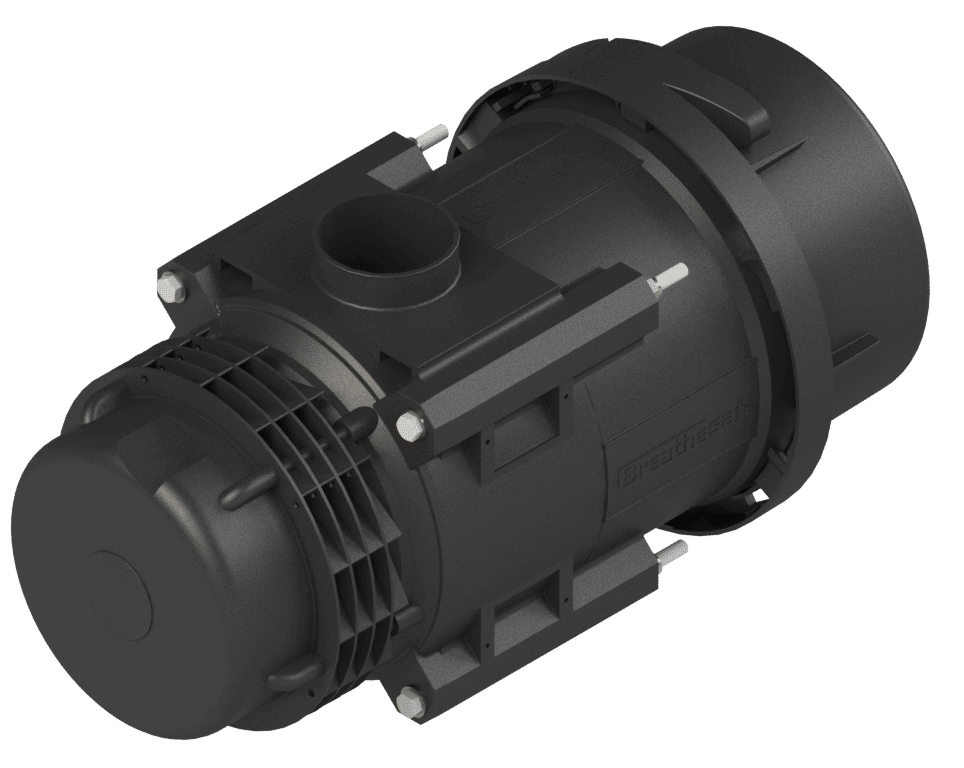 HEPA H14 Filters
The dust we are mainly concerned with is in the respirable range below 10 microns in diameter. To remove these, we use HEPA grade filters of H14 that are individually tested and serial numbered after manufacture as per EN1822 
BreatheSafe develops long life air filter and cabin pressuriser systems with HEPA filters. These filters remove hazardous respirable fraction particles with the efficiency of removing a minimum of 99.97% of particles in the 0.3-micron range. This is the benchmark for High Efficiency filters as tested per EN1822 which is the European Standard for air filters used in cleanrooms for pharma and electronics manufacturing.
Enginaire TURBO Precleaner
The integrated Enginaire Precleaner functions to remove up to 90% of larger airborne particles from the systems incoming air.
Activated Carbon Filter
Optional solid core type activated carbon filters are designed to remove particulate as well as harmful gases & odours from the air stream. To remove these gases & odours, we use an extra filtration stage containing Activated Carbon.
Activated carbon is a charcoal that has been impregnated with various chemicals. When gas goes through it, gas particles react with the carbon impregnated chemicals and form a stable harmless salt.
Another HEPA filter is placed at the air's exit from the activated carbon filter to prevent any salts or carbon molucles from entering the clearn air area.
Cabin Sealing
Industry minimum standard is between 20 and 50 Pa from new. 20Pa for air filtration and pressuriser systems with a monitor for operator to check. And 50Pa for those systems without.
The common areas to restore/upgrade are door seals, floor gaps, window seals and frames plus any other areas where HVAC system may have leaks.
HEPA Return Air Filters (HRAF)
Ideally, the return air filter to be situated close to operators feet to trap incoming dust particles that are usually discharged from clothes and shoes. It refilters the air before it passes through the heating, ventilation, and air conditioning (HVAC) system. 
Ideal system design is to collect outside air and blend with recirculating cabin air. This is to minimise CO2 levels 
Our systems can be customised for any machine and any environment
Including heavy, light, on highway and off highway vehicles
BreatheSafe Airconditioning
BreatheSafe has a solution for industrial machines, materials-handling machines, and agricultural machines. 
Full Installations
BreatheSafe is capable to custom design and install machinery air conditioning systems in new and used equipment. 
Custom design solutions intergrating cabin pressuriser and environmental filters.

Quick response from design to manufacture.

Local manufacturing to heavy duty specifications.

Upgrades to increase performance and extend HVAC component life cycles.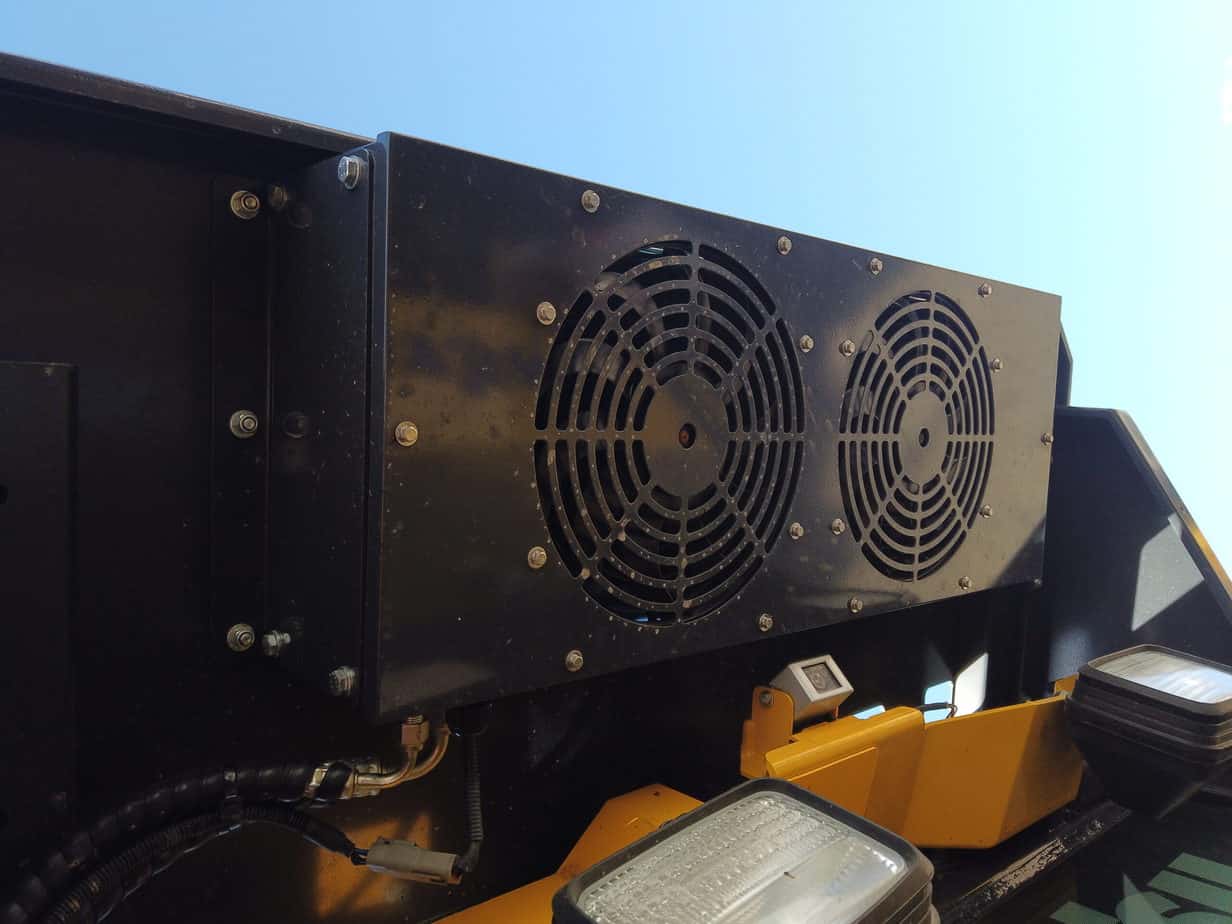 Integrated Systems
BreatheSafe is proud to supply and install integrated air conditioning systems: 
Heavy duty condenser 

High efficiency evaporator 

Upgrade alternator

Cabin sealing
Options:
 

Brushless motor

HEPA filtration
Accessories:
OEM Airconditioning Upgrades
BreatheSafe's OEM system upgrade & options to customise:
Optimise vehicle cabin.

Custom design cabin controls.

Integrated systems.

Full service support.

Full system manuals accessible online
Spare Parts
contact us for all your spare part needs
Cabin Pressuriser
Electric Motor
Brushless Electric Motor
Display controller
Fastening
Filters
Pre-Cleaner
Fan Wheels
Monitor and Data
Displays
Switches 
Alarms
Sensors
Housings
Airconditioning Parts
Compressor
Filter Drier
Switches 
Thermostats
Expasion Valves
Heat Exchangers
Controllers
Common Parts
Clutch Coil
Pressure Switch
Fastening 
Wiring Looms
Circuit Breakers
Repairs and Installations
BreatheSafe employs the best trained and qualified installers in the industry. 
Each install is treated with care and efficiency to ensure the product works at it's total optimisation to deliver a superior system for clean air.
Something new is always on the horizon at BreatheSafe
We are dedicated to innovation in technology to
protect workers and machinery.